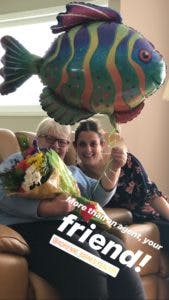 My mom and dad lived for 35 years in a nice family home in a wonderful neighbourhood, across the street from the elementary school that all of us kids attended. Dad passed away last year, and mom started to find the house too much to take care of and wanted to downsize to a condo that would be easier to maintain. When mom was ready, she contacted Adrienne Barnes to help her sell our family home. Adrienne had met mom a few years ago while she was working in our neighbourhood.
Mom was ready to sell during a buyers' market. Home prices were falling rapidly, and mom's retirement depended on getting the best price possible for the home that she and dad had worked so hard to buy and keep.
Adrienne and her team of professionals were ready to help. Adrienne provided good advice on how to price the home to attract buyers and get the most value for the house. She had her interior designer assess the home and recommend how to present the house to emphasize its best features. Adrienne had a great handyman and painter come over to make sure that the home was in great shape for buyers to see.
Once Adrienne listed our family home, she organized a series of open houses and used her marketing and social media skills to generate a lot of interest. Over the next few weeks, there were dozens of potential buyers who came through the house. Adrienne was able to bring multiple offers to Mom. Unfortunately, the first accepted offer fell through, because the buyer could not obtain financing. Adrienne kept hard at work, with more open houses and attracting more potential buyers. Another multiple offer situation came up and Mom was able to accept a great offer from a wonderful new family.
Gord Craigie
---
I have known Adrienne for a few years and I have been very impressed with the services she has provided to me.
She has represented me as a client that has been both a purchaser and a seller more than once. Each time the outcome has been excellent.
Adrienne is a professional I can trust and also a fun and positive person I can laugh with.
I would highly recommend Adrienne to anyone looking to purchase or sell real estate.
Gail Taylor
---
We had the pleasure of working with Adrienne Barnes for selling and buying (first time sellers) and she walked us through the whole way! Adrienne is very knowledgeable and professional. She answered all of our questions in a timely manner and always guided us with our best interest at heart. Adrienne went above and beyond for us, we got over asking on our sale and was only on the market for 1 week!
When it came time to buy, Adrienne was dedicated to us finding our next place to call home. She treated us like family through this process as well, giving us her honest opinion when she saw red flags after reading through some strata documents – yes that's right, she actually took the time to read through strata minutes/documents etc. Adrienne also door knocked the neighbours of our potential buy to get a feel for the area and to make sure it was the right place for us, what realtor does this?! And to top it all off, she was able to find out that we were the only offer going in on our buy and we got our new place at asking price, so she saved us money in this market!
We can't thank Adrienne enough for all she has done – she is an exceptional agent with a fierce work ethic who truly cares about the people she is working for, she is the real deal!
Thanks again Adrienne!!
Pamela Farmer